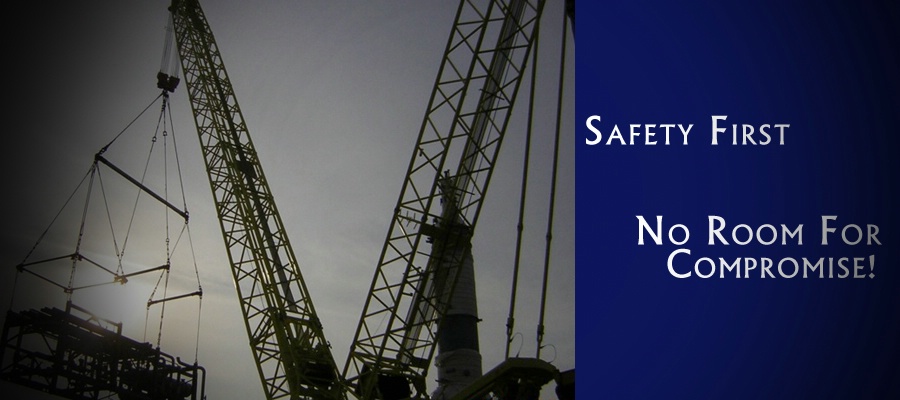 CAROL Rigging & Lifting Engineering provides comprehensive "BTH" (Below-the-Hook) lifting solutions for crane, rigging, lifting and transportation projects. CAROL has led the heavy rigging & lifting industry in service, innovation, safety and quality of workmanship for almost two decades. We have a team consisting of senior rigging and lifting specialists, engineers, project managers and former crane operators with an average tenure of 25 years in the industry. CAROL Rigging & Lifting Engineering is conveniently headquartered in the Gulf Coast region in the Houston Texas area with capability for global delivery.
Our Commitment
"CAROL is committed to the safety of our people and the onsite personnel involved in our projects. By faithfully managing our business and maintaining our core values, our team has successfully completed the most challenging, critical heavy lifts with "ZERO" incidents!"
Whether you are facing a complex, critical lift or you just need a quick turnaround on a rigging gear rental, we pride ourselves on providing the highest value in the industry.
---
CHART-UR-BAR™ Spreader Systems
CHART-UR-BAR™ Variable Spreader Bars . CHART-UR-BAR™ 30 Degree and 45 Degree Spreader Frames . Fixed Spreader Bars . Modular Lifting Beams . OCTALifter . OCTASpreader . HEXALifter . HEXASpreader . HEPTALifter . PENTALifter . PENTASpreader . TRISpreader . Rolling Blocks
Rigging and Lifting Equipment
Wire Rope Slings . Grommets . Slings . 3 Part Slings and 9 Part Slings . Shackles . Rolling Blocks . Rigging Triangle . TriLinks . Turnbuckles . Master Links . Links . Equalizing Links . Link Plates . Oval Links . Pad Eyes - Lifting Lugs . Bales - Key Hole Bales, Lifting Bales, Trunions with Bales . Chain Fall . Pipe . Pipe Flange . Pipe Stands . Stack Rings . D Rings . Swivels . Jack and Slide . Plate Bars . Bat Wing . Pony Beam . Extractor . Tube Bundle . Tailing Beam . Tailing Crane
Lifting Baskets – Various Sizes
Personnel Baskets . Material Baskets . Hardware Baskets . Rigging Storage . Skip Pans . Skids
Mats
Hardwood Timber Mats . Mora Mats . Steel Mats
---